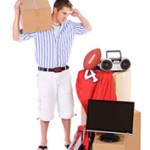 Your high school senior has been accepted to college. Although you may be dealing with the annoying symptoms of senioritis, you are beginning to sigh with relief because you see the light at the end of the tunnel. The draining, nerve-wracking college application process is over, and you are in the midst of prom, planning for commencement, family celebrations, and some well-deserved R&R this summer.
It's great to take a deep breath, but not for long. As I discussed in my post, "Freshman Year of College: Out of the Frying Pan, into the Fire," the challenges of high school end in the foothills of the next mountain your teen has to climb. Your son or daughter is about to embark on the most exciting but also, perhaps, the most difficult, journey of his or her life so far: freshman year of college.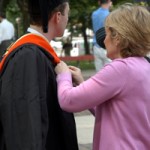 As a college consultant,  I bid goodbye to over twenty high school seniors every spring, whom I have gotten to know quite well during the intense process of helping them select prospective colleges, discover themselves while writing essays, and gaining confidence while preparing for interviews. I have usually had the privilege of getting to know their wonderful families. I will get updates, of course, but, life being what it is, I may not hear from them until the family has another high school junior ready to start the college process.
Meanwhile, I often think about all my graduating seniors. I wonder how they are doing. Do they like the college they have chosen? Is their college experience meeting their expectations? Are they thriving during their freshman year, academically, socially, and emotionally? Is there any guidance Position U 4 College could have offered to prepare them for this enormous life transition?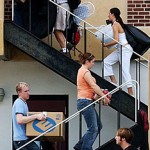 This spring, I am offering my clients, as well as other interested high school seniors in our local area, a workshop to give them tools for acing their freshman year of college. We piloted the program last year and are offering it again based on the enthusiastic reception. "Position U 4 Success…in College" will be offered on Saturday, June 6, 2015, 1-5 PM, at our Position U 4 College offices in Basking Ridge, New Jersey. Cost of the workshop is $75 per student; you do not have to have been our client during the college process. It will be an interactive discussion led by myself and several young professionals who can offer a recent perspective on the college experience. Topics will include:
Building Relationships with Professors

Academic Success Strategies

Navigating the Sea of Extracurricular Organizations

Leveraging Leadership Opportunities

Everything You Ever Wanted to Know About Greek Life

Being Social Without Risky Behaviors

Sexual Relationships

Eating, Sleeping, and Taking Care of Yourself

Getting Emotional Support for Loneliness, Stress, or Depression

Mapping Out Your College Plan

The Untapped Free Resource: Career Services

The Importance of Undergraduate Research

Internships: Don't Wait Until Junior Year

The Friends and Family You Left Behind
If you would like to register your son or daughter for this unique and essential workshop, please contact me at info@positionu4college.com.