Update, November 13, 2012:  With millions of other disappointed Americans, I watched the spectacular fall from grace of David Petraeus this week, as he resigned as Director of the CIA, days after President Obama's re-election. For me, this event was particularly poignant, after that glorious evening two-and-a-half years ago, when the former four-star General gave an inspiring commencement address as a distinguished alumnus at my niece's high school graduation in his hometown of Cornwall, NY.
Part of me wanted to delete the post below, in which I reflected on that special evening. I decided to preserve it, however, for two reasons:
First, this post demonstrates, now ironically, the significant role that accomplished, public leaders play as role models for our young people, influencing so many individuals they will never even meet. Whether in politics, the military, sports, the arts, or science, leaders in the public eye shoulder an awesome responsibility in setting standards for the next generation. Second, despite the unfortunate aftermath in the commencement speaker's career, no one can take away the joy I felt that steamy evening in June, 2010. It was the culmination of dreams and effort, and the anticipation of  a bright future. Forever preserved as a precious memory, it was a night of glory.
"Now, will the Class of 2010 please rise."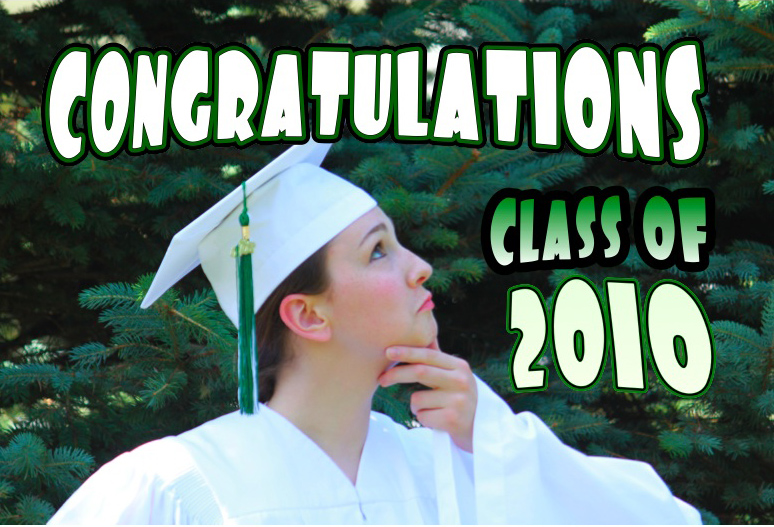 All over the USA this month, parents, grandparents, aunts and uncles, siblings, friends, teachers, guidance counselors, and college consultants have been hearing those pivotal words. Despite the inevitable June humidity, as well as worry about forecasted rain and camera battery longevity, the reality of the moment has broken through everywhere with elegant matter-of-factness.
Eighteen years ago, 4.1 million babies were born in the USA, slightly less than the  Millennials birth peak in 1990. What a year, 1992. Disney's Aladdin was the top-grossing film, almost as popular with my two year old son as Thomas the Tank Engine or his Brio® trains. Bill Clinton was elected 42nd President of the U.S. The Summer Olympics were held in Barcelona, Spain. The world had just witnessed the dissolution of the Soviet Union. And a talented country singer, Suzy Bogguss, gave the world a unique gift with the chart-topping crossover ballad about parent-child rite of passage: "Letting Go."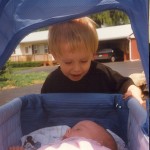 In 1992, I left my marketing position with Nabisco, enrolling in graduate psychology at Columbia University, to study career counseling and spend more time with my toddler son. That was the year I lost my mother. And my twin sister had her first child. It became my sister's humorous custom to wear an oversized old sports T-shirt of her husband's to the hospital when giving birth to each of her daughters.
The T-shirt read: "No guts, no glory."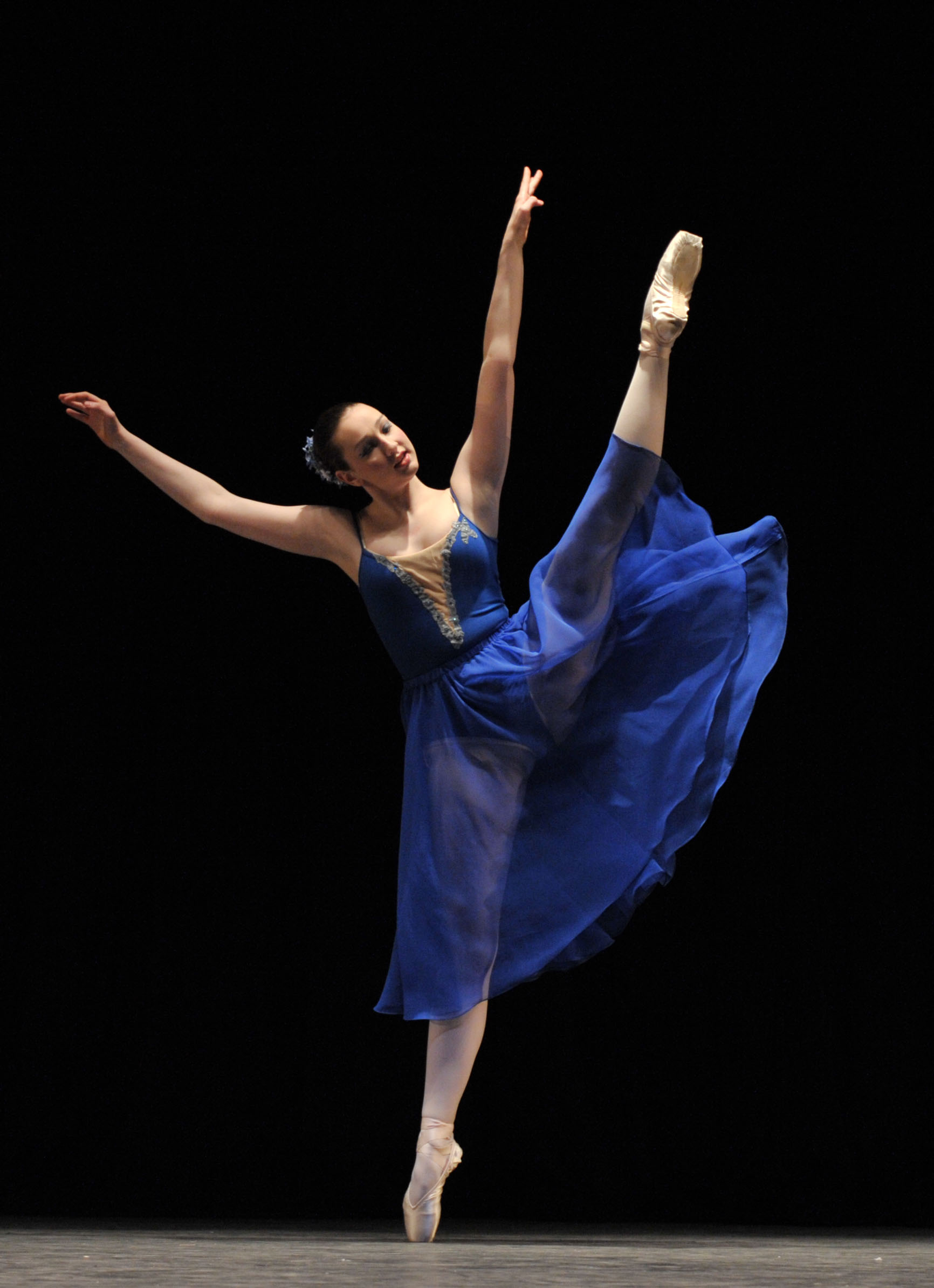 Fast forward eighteen years. It's taken a lot of guts to get here. Sleepless nights interrupted by infant cries; tearful preschool goodbyes; mind-numbing, noisy birthday parties; spectating on pins & needles at soccer games, ballet recitals, spelling bees, auditions,  and theater productions; quelling the drama of sibling disputes; feeling the vicarious wounds of any rejection or disappointment; intense midnight debates on the meaning of life; voracious shopping for prom shoes; resisting the proverbial temptation to backseat drive; surviving those wild teenage moodswings; arguing about the college essay; sleepless nights wondering how to pay for her dream school…
No, parenthood is not for wimps. You've had the guts so far, and you'll need them forever. But tonight, it's time for a little glory.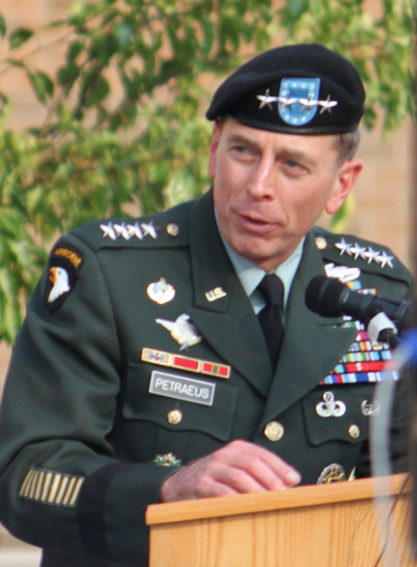 Cornwall Central High School in New York's Hudson Valley welcomes a commencement speaker who knows a little about guts and glory: General David Petraeus, head of the U.S. Central Command and Cornwall's most famous alumnus. This week the four-star General was nominated by President Obama as the new commander of U.S. forces in Afghanistan, perhaps his most daunting challenge to date.
Yet, this man of his roots is still making time for the high school seniors at his alma mater. Today I am honored and thrilled to be audience to his keynote address, and I listen thoughtfully to the wisdom the great hero offers. The General bases his inspirational speech on the words of Nobel prize winning writer Anatole France: "To accomplish great things, we must not only act, but also dream; not only plan, but also believe." He dramatizes this quotation in graphic relief with moving anecdotes from his own incredible career and courageous life.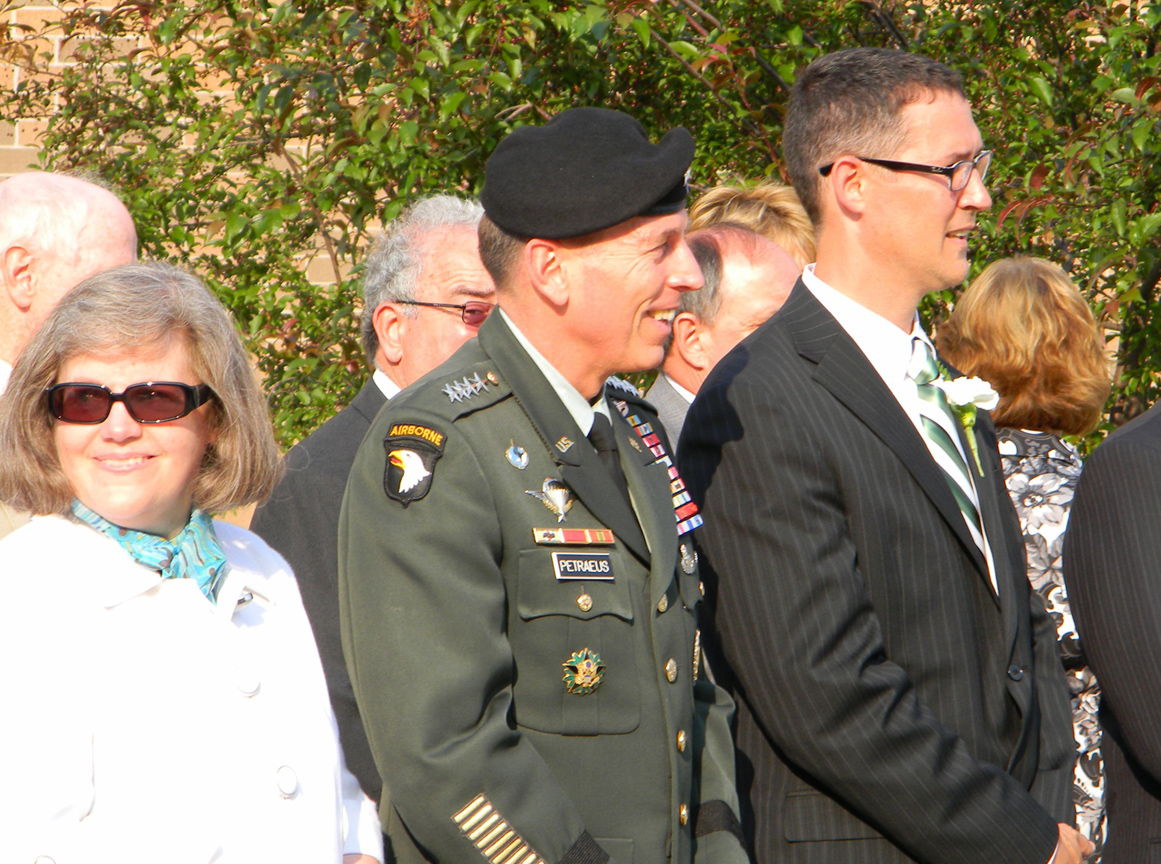 Forty years ago, David "Peaches" Petraeus, son of Miriam (neé Howell), a librarian, and Sixtus Petraeus, a sea captain, stood with his own graduating class from this close-knit, modest Hudson Valley community, anticipating the future's possibilities. Tonight, some 280 new high school graduates are doing the same, and my niece Laura is among them.
Maneuvering behind the sea of chairs, trying to get the best camera angle, I begin reminiscing about my niece's growing up, smiling as I anticipate her undoubtedly bright future.  I remember a few words from "She's On Her Way", Phil Vassar's touching song about girls growing up: "So be there to listen, and be there to talk, and learn to let go when it's her time to walk…"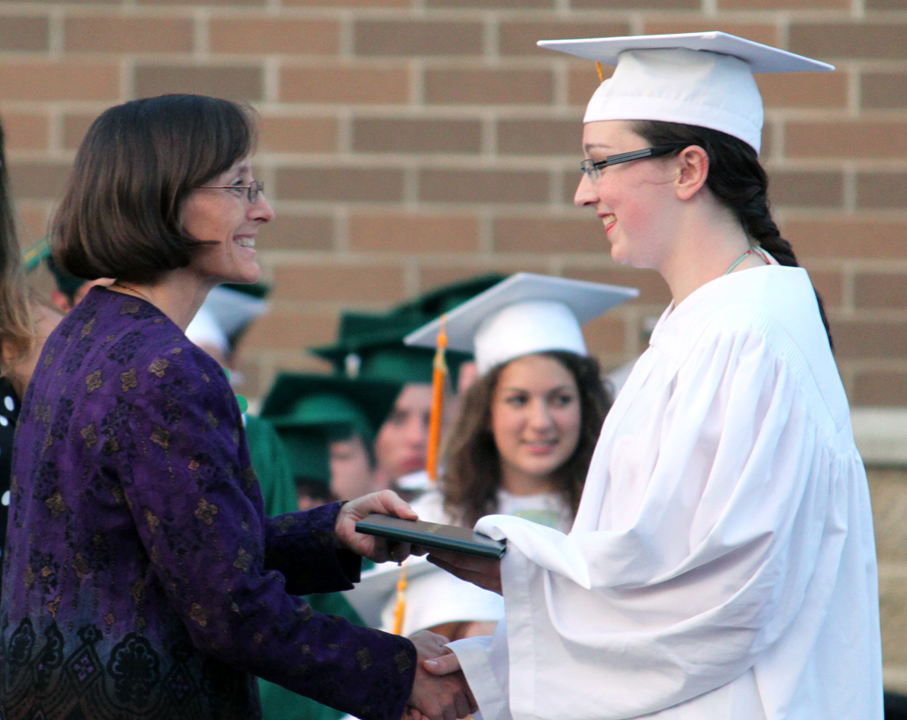 My niece accepts her diploma, sixth in her class, with many honors. I am a proud aunt.
Glory over. Now back to the guts.
For those new to my blog, some of my posts are sentimental, but most are filled with information and resources to help families launch college-bound high school students. Related posts: Graduation, Rites of Passage, and Letting Go, Letting Go (Back by Popular Demand), Honorable Adulthood, College Dorm Checklist: A Sneak Peek,The College Transition Bible, College Orientation Rites, and College Move-In: The Aftermath.