"Wag more. Bark less." -Author Unknown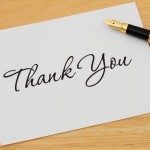 Thank you notes may seem a bit quaint or archaic in today's fast-moving, texting, "onto the next thing" culture. But manners are never out of style; in fact, I believe it is essential that your son or daughter consistently practice this expression of etiquette in the college application process and beyond.  As our parents and grandparents always taught us, saying a prompt and genuine "thank you" will always be the right thing to do.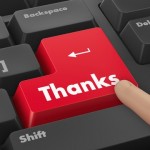 1. Email or hard copy? You may get different advice on this question; some admissions consultants make the point that a handwritten note is classier than an email, will stand out, and be placed in an applicant's file. While all that is true, email is certainly acceptable, emails can be delivered immediately without any lag time (time is of the essence with thank you notes), and admissions counselors do print out emails from applicants to place in their files. However, emails must be formal, professional communication, the same as a hard copy business letter. Titles should be used, not first names; grammar and spelling must be checked (i.e., no texting acronyms); and signed "Sincerely," with the applicant's full name. I do recommend hard copy thank you notes in special situations, which I will reference later in the post.
2. What situations warrant a thank you note?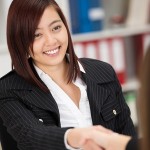 When your student meets an admissions officer at a college fair, high school guidance office, or at a campus information session, he or she should introduce oneself after the presentation and ask for a business card. If the applicant is unable to get a business card, the name and title of the admissions counselor can easily be found on the college's website. The student should immediately write a brief note saying, "It was a pleasure meeting you today." The student should reference the place of meeting, anything memorable that was discussed, and how the presentation or interaction enhanced his or her interest in the college. Usually the regional  admissions counselor who makes a presentation at your high school is the same individual who will read your son or daughter's essays, so it is important to help put a name with a face.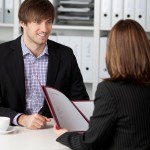 When your student has an interview with an admissions officer or alum, or a requested informational meeting with a professor at the prospective college, he or she should ask for a business card, and send a thank you email that very day. Immediacy shows enthusiasm, and it cements the interviewer's memory of the meeting and the applicant. The thank you note should be brief (it is not another college essay), expressing genuine appreciation for the interviewer's time: "Thank you so much for taking the time to meet with me today. I appreciate your perspective on University of X and your advice to me as an applicant." Again, the applicant should reference the place of meeting, highlights of the discussion, and how the interview enhanced his or her interest in the college: "After learning more about University of X, I am even more excited about the possibility of becoming a part of your college community."
If there is something your student forgot to mention in the interview that he or she feels is essential for the interviewer to know, this item can be worked into the email, but it should not seem awkward or sound like an apology. Most important, your son or daughter should have someone else read the thank you note for tonality before sending.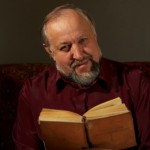 Teachers, guidance counselors, coaches, or performing arts directors who have taken the time to write a recommendation for a student should always be sincerely thanked. This should go without saying, but I am sad to say that it is a gesture that is often forgotten. Thanking recommenders, in my opinion, warrants a handwritten note on nice stationary, particularly if the teacher has been a special mentor. It is one more way of genuinely expressing thanks not only for the recommendation, but for the helpful influence that individual has had in the student's education, choices, and life. It is a keepsake; yes, teachers do keep appreciative notes from students.
For further tips, check out: "How to Thank a College Admission Counselor for an Interview."