Deborah Ernst, Owner of Position U 4 College Consulting LLC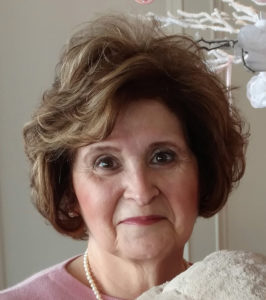 Deborah A. Ernst is an experienced former high school educator and guidance counselor who has partnered with Position U 4 College LLC founder Kris Hintz since 2011 and has assumed ownership of the company as of March 1,  2019.
In her eight years with Position U 4 College, Deborah has developed expertise using the Betterton Evaluator™, our licensed college list organization tool, and has guided hundreds of students through universal applications, such as the Common Application and the Coalition for College Access. Deborah has been in charge of essay development, resume writing, and interview prep. She has also tutored numerous students in the verbal sections of the ACT and has offered advice on learning disabilities and family issues.
Deborah worked for twenty years at Hackett Catholic Central High School, a rigorous independent prep school in Kalamazoo, Michigan, where she taught English, Spanish, and Theology. She also served as Director of Student Services for six years, helping students select and schedule classes, creating their ideal college lists, and communicating their distinctive strengths in the application process. She has written hundreds of college recommendation letters throughout her career. Additionally, Deborah coordinated all services for students with learning disabilities. She was in charge of all in-school testing, including the PSAT, Explore, PLAN, Michigan Merit Examination/ACT, AP, and ACT and SAT special testing for students with disabilities.
Deborah served as Advisor to the National Honor Society, Student Council, Spanish Club, and the school newspaper, as well as the coach of the Quiz Bowl team. She served as the Chairperson of the Foreign Language Department, the Graduation Coordinator, and the Chairperson and Coordinator of Academic Awards. She has received numerous awards within the school and the Kalamazoo community for her excellence as an educator, including:
AWARDS
Kalamazoo Excellence in Education Significant Educator Award (received 11 times 1995-2010)
Kalamazoo Area Math and Science Center Influential Teacher Award (received 15 times 1995-2004)
Coca-Cola Joseph B. Whitehead Educator of Distinction Award for Exemplary Dedication to the Field of Education (2003)
Hackett Catholic Central Professional Excellence Award (1998)
Notre Dame Club of Kalamazoo Teacher of the Year Excellence in Teaching Award (1997)
Western Michigan University Lee Honors College Favorite Teacher Award (1995)
Deborah has been an editor for several books, including citations editor for Kris Hintz's 2011 Navigating the Road to College: A Handbook for Parents. As the mother of three grown children, Deborah is well acquainted with the ups and downs of raising teenagers, navigating the college process, and successfully transitioning to a relationship with her sons and daughter as adults.
Deborah graduated from Western Michigan University with a BA in Education and holds certificates in Spanish and English in secondary education as well as in elementary education for all subjects kindergarten through eighth grade.
Since Position U 4 College LLC was established in 2008, Kris, Deborah, and affiliates have advised students in numerous New Jersey, New York, Connecticut, Maryland, Virginia, and Pennsylvania high schools. Public high schools include: Millburn, Columbia, Livingston, West Orange, Chatham, Madison, Morristown, Ridge, East Brunswick, West Windsor, Princeton, North Hunterdon, Hunterdon Central, Vorhees, Westfield, Summit, Governor Livingston, Watchung Hills, Cornwall Central (NY), Monroe-Woodbury (NY), and LaGuardia High School for the Performing Arts (NY).
Independent schools include: Kent Place (Summit, NJ), Pingry (Martinsville, NJ), Oak Knoll School of the Holy Child (Summit, NJ),  Villa Walsh Academy,  Newark Academy (Livingston, NJ), Montclair Kimberley Academy (Montclair, NJ), Morristown Beard (Morristown, NJ), Delbarton School (Mendham, NJ), Seton Hall Prep (West Orange, NJ), Oratory Prep (Summit, NJ), Gill St. Bernards (Gladstone, NJ), Mt. Saint Mary Academy (Watchung, NJ), Mt. Saint Dominic Academy (Caldwell, NJ), Golda Och Academy (West Orange, NJ), Princeton Day School (Princeton, NJ), Wardlaw-Hartridge (Edison, NJ), Rutgers Prep (Somerset, NJ), St. Peter's Prep (Jersey City, NJ), The George School (Newtown, PA), Purnell School, and Rye Country Day (Rye, NY).
For a complete list of colleges and graduate schools to which our clients have gained admission, view our College Track Record.