Don Betterton, Betterton College Consulting

In January 2010, we established an affiliation agreement with Don Betterton, a highly regarded and experienced college admissions and financial aid professional, giving Position U 4 College Consulting LLC licensed access to Don's unique BCP Evaluator™ college list planning tool, which allows students to match their credentials with a college's selectivity. Don served as the Director of Financial Aid at Princeton University for over thirty years. Don also served on Princeton's Admission Committee and is familiar with college admissions from policy level discussions to the evaluation of student credentials. He has counseled hundreds of students on how to prepare both inside and outside the classroom to meet their educational goals.
Kris Hintz, Position U 4 College Consulting LLC Founder and Advisor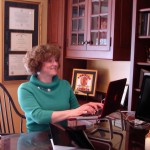 Kris Hintz started Position U 4 College Consulting LLC in 2008, bringing her experience in college admissions counseling, psychology, career development, and marketing to help students and young adults discover and market their key strengths to colleges, graduate schools and employers. After working with Deborah Ernst as a colleague for eight years, she is retiring and transitioning firm ownership to Deborah, effective March 1, 2019.