"Things which matter most must never be at the mercy of things which matter least." –J.W. Von Goethe.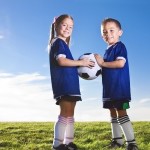 At the first YMCA kindergarten soccer game, I remember watching cute little tykes in their brand new shin guards and cleats, chasing the ball around the field in closely clustered, stampeding herds, with no sense of strategy but plenty of pure delight. In a few years, most of those kids would hang up their cleats for good, while some would attend skills camps and become inducted into a competitive world of travel teams that would dictate their priorities throughout their childhood and adolescence. An elite few would be recruited by college scouts and actually play for the NCAA.
High school athletics, with an aspiration to play college sports, has its pros and cons. I have frequently heard parents say, "We're hoping he'll get a college scholarship," or "Maybe athletics will be the 'hook'  to get her into an elite university." Every individual is different, of course, and every institution has different needs. In this post, I explore the plusses and minuses of taking the athletic route to college.
PROS: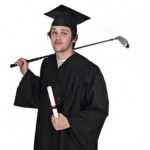 1. Your student could land an attractive scholarship that could help defray the cost of college. Yes, if your student is exceptionally talented and trained, he or she may land a scholarship, but the probability is rather low. Only two percent of high school athletes go on to earn some form of athletic scholarship to compete in college, and only two percent of college athletes actually go on to professional careers in sports. Only NCAA Division I and II sports qualify for athletic scholarships, although many Division III student-athletes do receive some form of academic grant or need-based scholarship. The possibility of receiving a sizable scholarship is also affected by whether your student plays a sport that commands a "head count" or "equivalency" scholarship. Moreover, NCAA eligibility requires benchmark GPA and test scores, so athletic talent does not save a high school student from the need for academic rigor.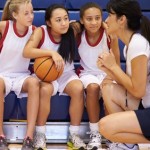 2. Your student could use the sports "hook" to gain acceptance to a more selective university than could be achieved by his or her academic performance alone. Yes, if your son or daughter has the rare fortune of being an exceptional student and outstanding athlete, with unique time management ability, he or she may be able to get into a college that cannot be accessed by equally brilliant classmates. This approach is not without its risks, however. Many academically accomplished students also have lofty career aspirations, which usually require exceptional performance not just in high school but in college, to be accepted at elite medical schools, law schools, or whatever the next rung of the ladder is for that individual.
College sports, at any level, generally requires more commitment than high school sports, including spending one's life in an airplane. It can be highly stressful, especially for a perfectionistic student motivated to check all the achievement "boxes," leaving no room for relationships, personal reflection, self-development or mental health.  A student with high aspirations needs to think long and hard about the impact of college sports on one's college experience and future, not only professionally, but personally as well.
CONS: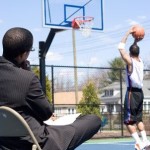 1. High school athletic focus may come at the expense of academic performance. Yes, I have occasionally encountered families whose son or daughter's athletic prowess has not diluted academic performance, with the student landing a spot in a college whose selectivity exceeded his or her academic performance alone. It is more common, however, to encounter students who devote inordinate time and energy to their sport year-round, and their academic performance is below average. This is called putting all your eggs in one basket!  Remember that only two percent of high school athletes are awarded any form of scholarship for college.
Often, these students are not sufficiently talented or trained to play college sports, or they have not been given the coaching guidance to participate sufficiently early in showcase events to get recruited. Meanwhile, athletics has eaten up the time that would otherwise be spent on studying, and their grades and test scores do not qualify them for the colleges that they imagine attending. Even if a high school athlete does play well enough for college sports and manages to avoid disqualifying injuries or life-altering head trauma (all too common these days), he or she must still earn the GPA and test scores required by the NCAA and that university.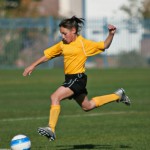 2. Focusing on athletic scholarships can not only be a wild goose chase, but it can also result in a family ignoring the larger pool of academic merit scholarship money offered by colleges. College affordability expert Lynn O'Shaughnessy recently did an analysis of whether a specific student should seek a soccer scholarship at Goucher College versus an academic merit scholarship. She concluded:  "The average merit scholarship (non-need based aid) at Goucher College is $13,867, which is bigger than the average NCCA athletic scholarship of $11,000… And what about the odds for a soccer scholarship? It's grim. According to the most recent figures that I can find, about 330,000 boys compete in high school soccer, but there were just 2,357 soccer scholarships available. These scholarships were split among 6,047 students. The average award was just $8,533… The money you receive for academic accomplishments is usually more than a sports scholarship."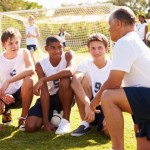 3. When sports enters into the college decision, the student and family often do not concentrate adequately on academic and social "fit," or programs that fit the student's career goals. Lynn O'Shaughnessy comments: "Families often end up shopping for athletic scholarships rather than for schools that represent a good academic fit. If you are a gifted athlete or the parent of one, I'd recommend that you first identify schools that would be a match academically and then inquire about the sports. Getting a college education is infinitely more important than playing a sports."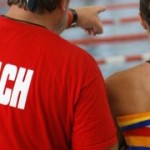 When sports is the major consideration in the college decision, families discuss the personality of the coach, the likelihood of playing as a freshman versus watching from the bench, the team's recent statistics, and so forth. There is nothing wrong with that, but often this emphasis comes at the expense of talking about what a student is interested in studying (if he or she even knows), the college's reputation in that field of study, the student-faculty ratio, or the professional placement of alumni. Moreover, when a student has spent his or her life building an athletic identity, is it even possible to have the leftover bandwidth to build an academic, professional, or personal identity?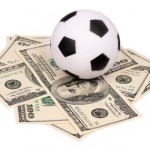 Overall, participation in sports has unquestionable benefits, including regular exercise, sunshine, learning how to improve via deliberate practice, sportsmanship, leadership, collaborating as a team, and so forth. But as the U.S. lags behind many countries in academic skills, now is hardly the time to beat the drum for more intense involvement in high school athletics.  I'll take a great GPA and SAT score over a new high school sports record any day of the week.