"There is no standing still because time is moving forward." –Greg Lake.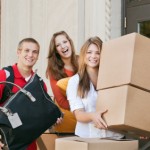 COLLEGE MOVE-IN is on the horizon. Where to start? As a college admissions consultant, I not only like to see my young clients get into their first choice college, but also be prepared to move into college as well. There are move-in shopping resources for every budget level and taste preference, with online stores often offering free shipping. I peruse the resources and annually update a college checklist for my soon-to-be freshman families.
YOUR KID'S COLLEGE WEB SITE: Find the download list  (instructions about what/what not to bring). Take note of rules about microwaves (colleges often specify a microfridge combo model you can buy or rent), extension cords (colleges usually want power surge protectors), and lightbulbs (halogen bulbs are forbidden). Find out if you are allowed to "loft" beds and buy a futon for underneath.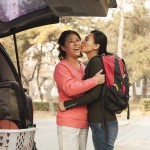 Confirm what furniture and interiors are provided before you purchase anything (carpeting, microwave or fridge in common areas).  Check with the roommate before buying a TV, speakers, computer printer, air filter, large fan, and other major electronics. This can be a great excuse for communicating with roommates before move-in. Prior to purchasing a laptop, check with the school (some colleges actually supply laptops and most offer discounts). What modes of transportation are common on this campus (i.e., walking, public transport, bikes, school shuttles)?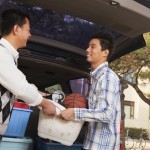 INTERNET PACKING CHECKLISTS: Helpful web sites:  CollegeBoard, CollegePackingList.com, Pinterest.com, and Gifts.com. Online parent and student discussion forums: CollegeConfidential. Blogs: KnowsyMoms.com and HerCampus.com. Search engines: About.com:Dorm Room Accessories, About.com: Dorm Furniture, and About.com: Futon Sources. And yes, of course, there's an app for that: College Packing List iPhone App by Slugbooks LLC (through iTunes).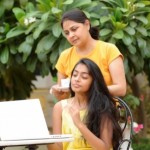 ONLINE STORE CHECKLISTS AND SHOPPING RESOURCES: For well-organized store checklists, often printable, and one-stop dorm shopping departments, check out these terrific resources: PBTeen, Bed Bath & Beyond, Macy's, Walmart, Target, Kohls, The Container Store, and DormSmart.com. For school logo gear, explore CollegeGear.com, YourCollegeGear.com, FansEdge, and your teen's college online bookstore, such as Barnes and Noble College  or eFollet.com. Don't forget discount Internet shopping resources such as Wayfair, Overstock, Zappos; there are also dorm-oriented online companies that offer value-pack dorm starter sets, such as DormCo.com, DormSmart.com and Residence Hall Linens.
If your son or daughter is going by air, purchase online (with free shipping offers) and ship directly to school. Buying online is more cost efficient than an impulsive move-in "supermarket sweep" (when local stores are sold out of many staples). Colleges receive packages by mid-August. Check your school's Web site for dates and location for receiving packages.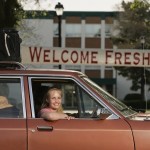 Getting my son ready for a college that was an airplane trip away years ago, I found it disorienting jumping between online shopping resources, to identify the best gear and, of course, price-shopping. To alleviate readers' stress, I created my own checklist of essential items, drawing upon multiple manufacturers, with a good price/value, which I update annually. You will probably not agree with my choices on all items, but at least it will jog your memory and help you think of items you may have overlooked.
Here's my checklist, updated for 2016.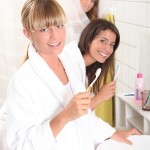 BATH: Dormbuy Dorm Caddy Shower Tote (Amazon), Residence Hall Linens Shower Tote,  Target Room Essentials® Towel Set, DormSmart Kimono Organic Cotton Unisex Light Waffle Robe. And Havaianas flipflops are a must for the trek to the shower!
BED:  Target Room Essentials® Easy-Care Sheet Set, Target Room Essentials® Mattress Pad, Target Room Essentials® Bed Pillows,  Target Room Essentials® Fleece Blanket, Target Room Essentials® Down Alternative Comforter, Kennedy Home Collection Bed Risers  (Amazon),  Target Room Essentials® Comfy Foam Mattress Topper, DormSmart Reading Pillows.
LIGHTING:  Ray-o-Vac Flashlight (Amazon),   Target Room Essentials® Torchiere Floor Lamp, Urbanest Black 5-Watt LED Energy Saving Architect Swing Arm Desk Lamp (Amazon).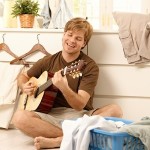 CLOSET & STORAGE: Hanger Shop Ultra-Slim Velvet Hangers (Amazon), Hanger Shop Over the Door Hanger (Amazon), Axis Jewelry Organizer (Amazon), The Container Store® Underbed Plastic Storage Containers, The Container Store® Hanging Closet Bags, Rubbermaid Configurations Shoe Organizer, 20-Pocket (Amazon), Kohl's Redmon Bongo Pop-up Canvas Laundry Hamper,  DIBAG Combo Set Space Saver Bags (Amazon), Boli Hand Air Deflation Double-Barrelled Pump for Space Saver Bags (Amazon), Umbra Magnetter Wall-Mount Organizer (Amazon). Bunkpal makes a cool "adjusted bed shelf."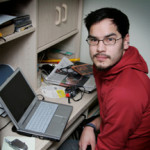 DESK SUPPLIES:  Board Dudes 8.5″ x 11″ Magnetic Dry Erase Board with Marker & Magnet (Amazon), Copco Drawer Organizer (Amazon), Rolodex Pencil Holder (Amazon), Rolodex Wastebasket (Amazon), Bostitch Stapler, Staples & Remover Set (Amazon), Swingline Desktop 2-3 Hole Punch (Amazon), Bostitch Electric Pencil Sharpener (Amazon), Westgate Scissors 2-Pack (Amazon), Scotch Tape 3-Rolls (Amazon), Dixon Pencils 12-Pack (Amazon), PaperMate Erasers 3-Pack (Amazon), Bic Clic Stic Ballpoint Pens 12-Pack (Amazon), Sharpie Highlighter 12-Pack (Amazon), Sharpie Permanent Marker 2-Pack (Amazon), Avery Glue Stick 6-Pack (Amazon), PaperMate Correction Film 2-Pack (Amazon), Mead 5-Subject Notebook (Amazon), Pendaflex Essentials Hanging File Folders (Amazon), Paper Clips (Amazon),  Hammermill Printer Paper (Amazon), DuraCell 20 AA Batteries (Amazon).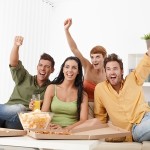 KITCHEN & SNACKS:  Tupperware Microwave Container (Amazon), Neiko Multi-Function Pocket Knife with Bottle & Can Opener (Amazon), Ikea BPA-free 36-piece Dinnerware Set, Assorted Colors (Amazon), Kirkland Signature Microwave Popcorn, 3.3 oz, 44 Count (Amazon), Kraft Easy Mac Original Mac & Cheese Dinner 18 Microwaveable Single Serve Packs (Amazon). Of course, you will eventually send a student care package, but it's nice for your son or daughter to have some "comfort foods" to start off with.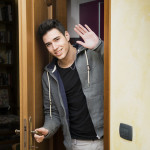 UTILITY, CLEANING, COMFORT & SAFETY:  Power Squid® Power Outlet Multiplier,  Bed Bath & Beyond Over-The-Door Mirror In Silver Double Bead, Scotch Basic Painter's Duct Tape  (Amazon), Velcro® Industrial Strength Fastener Tape (Amazon), ConAir 5X Double-Sided Mirror (Amazon), Hamilton Beach Air Cleaner (Amazon), Honeywell HT-908 Turbo Force Room Air Circulator (Amazon), Hoover Cordless Hand Vacuum (Amazon), OXO Good Grips Dustpan and Brush Set (Amazon), Lysol Disinfecting Wipes (Amazon), Kensington Computer Notebook Lock or DormVault Laptop Safe  (Amazon), Keychain Alarm with Light (Amazon), Fire Gone Dorm Fire Extinguisher (DormCo), 3M FirstAid Kit (Amazon), Polder Deluxe Tabletop Ironing Board (Amazon), Sunbeam Steam Iron (Amazon), AAA 85 Piece First Aid Kit (Amazon), Best Sewing Kit For Girls & Boys (Amazon), Apollo Precision Tools 39-Piece Set (Amazon), Greenco Super Strong Foldable Step Stool (Amazon), DormSmart Rugs.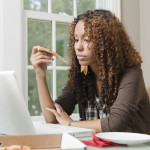 ELECTRONICS: Not all of these are "must-haves". Your student's major, gadget affinity, budget and personal taste will dictate electronics needs and preferences. Probably the most important consideration for all college students is that data should be backed up on a regular basis. Some possibilities:  SanDisk Cruzer CZ36 32GB USB 2.0 Flash Drive (Amazon), LaCie Rugged 1 TB USB 3.0 Mini Disk Portable Hard Drive (Amazon),  SONY Noise-Canceling Headphones (Amazon), Caseling Carrying Headphone Case Bag (Amazon),   Cooler Master NotePal X-Slim Ultra-Slim Laptop Cooling Pad with 160mm Fan (Amazon),  TI-89 Titanium Graphing Calculator (Amazon), LapGear Computer Lap Desk (Amazon), iDsonix®Multi-Device 4-Port Charging Station (Amazon).
Related posts:  High School Seniors: Looking Toward College,  Off to College: How to Choose Your Freshman Dorm–and Roommate, The College Transition Bible.